Customer TestimonialsWebsite TestimonialsGoogle Testimonials
Door Entry Systems
Wilson Alarm Systems Ltd, provide a range alarm and door entry systems throughout Leicestershire. A networked access control system has the advantage of being able to control user access anywhere from within a building. Our preferred choice of product for a networked access control system is Net2. The Net2 system has a lot of flexibility built into its functionality, making it a cost-effective and all-around high performing product.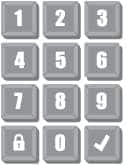 Some of the Net2 control panels have flash memory which allows them to be easily upgraded, so you'll have the peace of mind that your property is protected by the latest security technology. Our experienced consultants are on hand to help and advise you on the right products to suit your everyday requirements, security concerns and budget.
For all door entry systems, access control and security enquiries, please contact our trusted team today by calling 0116 245 30 30, or fill in our online enquiry form and a member of our team will get back to you as soon as possible.